While one's personal prayer life and joining in the prayer at the Liturgy are integrally linked and inseparable  in the spiritual life of Orthodox Christians, they are also  two distinct types of prayer.  When one joins the community at the Liturgy, we are joining to pray communal prayers, to join our heart and mind to those of all the other believers assembled together.  It is both how we compose the Body of Christ and experience the Body of Christ in our own person.
 Fr. Thomas Hopko writes:
"Liturgical prayer is not simply the prayers of individual Christians joined into one. It is not a corporate 'prayer service' of many persons together. It is rather the official prayer of the Church formally assembled; the prayer of Christ in the Church, offering His 'body' and 'bride' to the Father in the Spirit. It is the Church's participation in Christ's perpetual prayer in the presence of God in the Kingdom of heaven (cf. Heb 7.24–25, 9.24).  . . .  In the Orthodox Church there is no tradition of corporate prayer which is not liturgical. Some consider this a lack, but most likely it is based on Christ's teaching that the prayer of individuals should be done 'in secret' (Mt 6.5–6). This guards against vain repetition and the expression of personal petitions which are meaningless to others. It also protects persons from being subjected to the superficialities and shallowness of those, who instead of praying, merely express the opinions and desires of their own minds and hearts. . . .
When one participates in the liturgical prayer of the Church, he should make every effort to join himself fully with all the members of the body. He should not 'say his own prayers' in church, but should pray 'with the Church.' This does not mean that he forgets his own needs and desires, depersonalizing himself and becoming but one more voice in the crowd. It means rather that he should unite his own person, his own needs and desires, all of his life with those who are present, with the church throughout the world, with the angels and saints, indeed with Christ Himself in the one great 'divine' and 'heavenly liturgy' of all creation before God.   Practically this means that one who participates in liturgical prayer should put his whole being, his whole mind and heart, into each prayer and petition and liturgical action, making it come alive in himself. If each person does this, then the liturgical exclamations become genuine and true, and the whole assembly as one body will glorify God with 'one mouth, one mind and one heart'…"   (SPIRITUALITY, pp 127-128)
We come to the church at liturgy to join and become part of the community (common-unity), to share in the life in the Body of Christ.  Communion and community are related words and concepts.
In this sense, we don't come to the Liturgy to say our private prayers.  Christ taught us to do that at home, hidden from the eyes of others – to do such private praying in the privacy of our own room (Matthew 6:6).  The liturgy is a time to set aside our private prayer books and to pray the liturgy with everyone assembled.  If we pray with the community, and "go to church" exactly for that purpose, then perhaps we can also learn tolerance for others.  They are not there to annoy us, but are there exactly so that we can pray with them, sharing space and time in community.  The people who aren't dressed appropriately, or the crying babies, over-active children, the people coming late, those walking in and out of liturgy – these are the people we are coming to church to pray with and for.  So they aren't disrupting our liturgical prayer life, they aren't distracting us, but are there for us to note them and pray with and for them.  We come to the Liturgy to be fully aware of those with whom we belong in the Body of Christ.  This is part of the love for one another of which Jesus spoke (John 15:11-17 – note that Christ taught that loving one another would increase our joy, not detract from it!).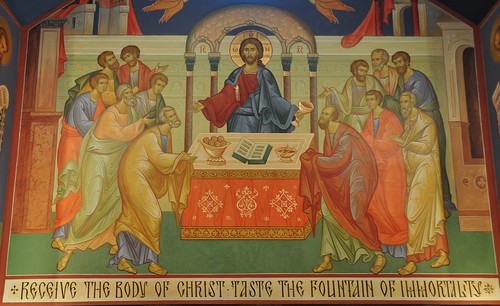 We also come to pray with and for the needs of the community.  In some places  it has become common practice to turn in long lists of names of the people for whom we privately are praying.  We somehow seem to think this makes the Liturgy personal.  But truthfully turning in such long lists of names does exactly what Fr. Hopko says shouldn't happen at the liturgy: It turns the Liturgy, the common prayer of the people, into "the expression of personal petitions which are meaningless to others."   You are supposed to pray personally and privately for all the people on your prayer list, but all those names aren't meant to be expressed in the Liturgy.  The liturgy prays for virtually every one on earth in its various petitions.  Turning in long lists of names may seem pious and prayerful, but we are already praying for virtually everyone at the liturgy in the many categories of people we pray for in the various petitions.  Naming people at the Liturgy changes the nature of prayer at the Liturgy into private petitions.  It is appropriate for the local community to pray by name for people of special interest to the community that have special needs, but these should be names known by virtually everyone in the community and whose needs are well known too.
A friend tells me that turning in long lists of names to be read at the Liturgy is common in places where Communion is infrequent.  He thinks it is just another practice that has emerged in churches in which actual communion has disappeared.  Like the proskomedia, names are being offered because frequent Communion has disappeared.  It is the substitute for the reality of the sacrament.  If people are living the Christian life and joining in the community's Eucharist, they are "in Christ" in reality, not just in name.
We "go to Church" in order to fully experience the sacramental reality of the Community's Eucharist.  That is something we cannot experience at  home in our private prayer life.  Our private prayer life is in fact nourished by our liturgical prayer life in community.  But we should not be reducing Liturgical prayer to being just our private prayer.  Individualism is meant to be overcome in Christ in whom we become part of His body, members one of another (Romans 12:5).