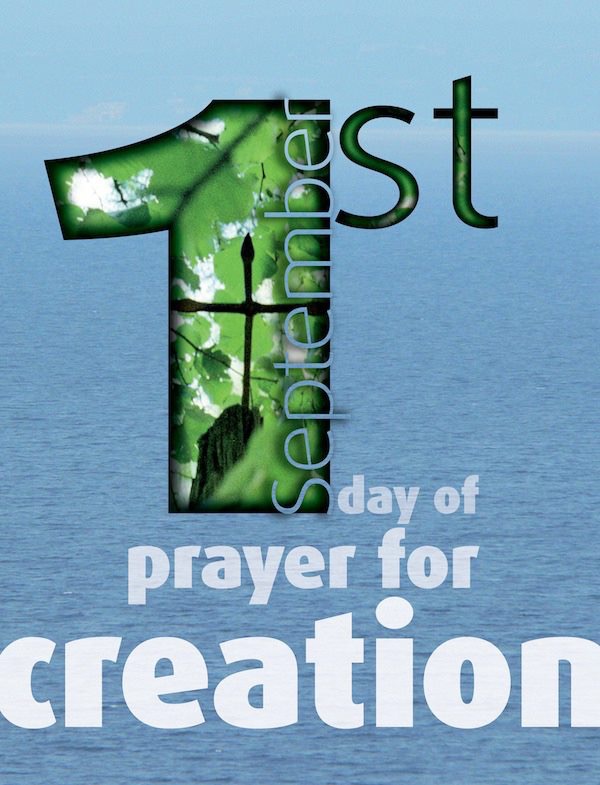 Ecumenical Patriarch Bartholomew several years ago declared that Orthodox Christians should keep September 1 as a Day of Prayer for Creation.  There seems to me little doubt that considering both natural disasters and ones that are caused by humans, it is good for us to be concerned about the planet on which we live and to pray for our world.  "For God so loved the world that he gave his only Son, that whoever believes in him should not perish but have eternal life."   (John 3:16)
Metropolitan Kallistos Ware says that we humans are eucharistic beings in that we are fulfilled as beings when we gratefully offer creation and the blessings we have received back to God.   However, we interact with the creation we have received and transform what we have received into our common salvation.  We have to cooperate with God for our salvation.  As Metropolitan Kallistos writes: "Note that in the Divine Liturgy, we offer to God not grains of wheat, but bread; not bunches of grapes but wine.  We offer back to God the fruits of the earth, but we do not offer them back in their natural state; we offer them back transformed by human hands."
In this process of transformation we experience the transcendent life – God active in creation and creation as a means to our communion with our Creator.  We become co-creators with God, transforming not only wheat into bread and grapes into wine, but then transfiguring bread and wine into the Body and Blood of Christ.  In this process we transform ourselves – God enters into our lives and we become united to God.
We are able to vivify, give life to even inanimate objects.  The bread and wine become the Body and Blood of Christ.  Water becomes life-giving in baptism, but it gives eternal life as does the Holy Communion.  One can see this power of love giving life if one only watches a child cherishing its favorite toy.  That toy is imbued with life by the child's love.  How often children coming to venerate the Cross at the end of services have their favorite stuffed animal kiss the cross as well.  That toy is given life through their love.  They are not pretending, because they do not understand that yet.  They have an innocence which enables them to love something to life.  Adults pretend, but little children do not.  Adults pretend to be happy or pious.  A child simply lives the life and gives that life and love to their toy which is just as alive for them.  They are transfiguring the world, making it all full of love and life-giving.   "Truly, I say to you, unless you turn and become like children, you will never enter the kingdom of heaven. Whoever humbles himself like this child, he is the greatest in the kingdom of heaven" (Matthew 18:3-4). We all lose that ability as we get older, jaded, more mature.   We regain that ability when we see in the Church the Holy Spirit working love in us that allows us to see one another as members of the Body of Christ, to see bread and wine as Christ's Body and Blood.
We are given natural resources by God, in the parish we transform these God given resources into the means of our salvation.  And God gives us not only things, but people – the members of the parish.  The people God brings together into community are also a God-given natural resource for which we are to give thanks to God.  God became human in Jesus Christ so that we humans might become God.  This is far greater than just hoping that we might go to heaven someday.  We can become heaven on earth if we allow God to dwell in our hearts now.
Metropolitan Tikhon's message for the Day of Prayer for Creation calls on us all to praise God for all that exists.