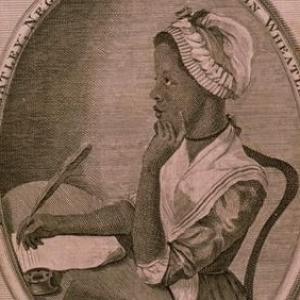 I was at the Cincinnati Art Museum and saw their exhibit Women Breaking Boundaries.  In the exhibit I saw a sculpture of Phillis Wheatley  (1753-1784) who was the first Black poet published in America.  She was captured as a young girl in Africa and brought to America as a slave.  She eventually attained her manumission.   I do not remember ever learning about her, so decided to read her poetry.  It amazes me that someone can master a foreign language so well as to become a poet in that language  – and she really did excel in the King's English.  More amazing she was able to do this despite spending much of her life as a slave and then dying at age 31.  She must have had great language skills.   She does not excessively focus on her experience as a slave, but did become a fierce defender of Christian Trinitarian theology, even though it was Christian people who enslaved her.  She had to remind her white Christian fellow believers that Blacks are humans, that Christ died for them as well because Black lives matter to the Savior.  In Christ God became human so that humans might become god – that is a Christian truth for every human being.
Here is a poem she wrote at about age 16:
"On Being Brought from Africa to America"
'Twas mercy brought me from my Pagan land,

Taught my benighted soul to understand

That there's a God, that there's a Savior too:

Once I redemption neither sought nor knew.

Some view our sable race with scornful eye,

"Their color is a diabolic die."

Remember, Christians, Negros, black as Cain,

May be refin'd, and join the angelic train.
A good reminder to all of us to see beyond the color of the skin to see the image of God in each person.
I was struck in her poetry how little she identified herself as a slave or African and how she did identify herself as a member of His Majesty's colonies – she was a loyalist who became an American as our country was born and she embraced the ideals of freedom.  She lived through 1776 and the American revolution.
Some might feel that she somehow fails to take up the Black cause.  But I think what is true of her is that she saw herself first and foremost as a human being, not as an African or African American or Negro or Black or slave or former slave.  She was human forcibly brought to an English colony which became the United States of America.  Her identity was not the color of her skin or place of origin but her humanity.  She  was African, British or American – it was of no matter because it was her humanity which she shared with those around her which was her self understanding.   That is how she was able to so readily identify with her fellow humans and was not separated from them by slavery, by race or nationality.
Each of us is created in God's image and likeness.  She was able to see beyond the externals right to the heart of the matter.  One needs eyes to see what was obvious to her, despite how other treated her.