I can't vouch for the integrity of the article which appeared online, but Ukrainska Pravda reports that Moscow "Patriarch Kirill says dying in war against Ukraine 'cleanses away all sins.'"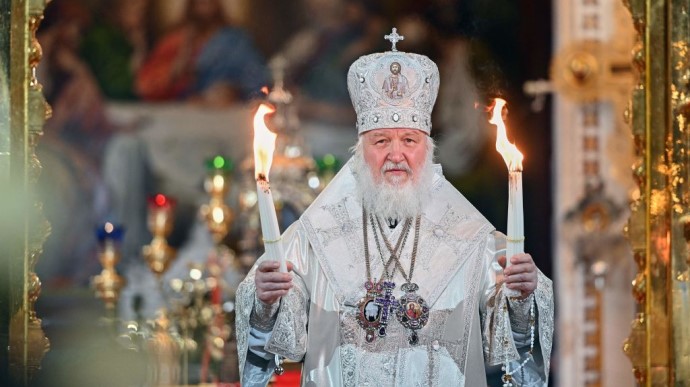 They offer the complete quote as (and again I can't verify this quote):
"We know that many today are dying in the fields of internecine battle. The Church is praying that this battle will end as soon as possible, that as few brothers as possible will kill each other in this fratricidal war.

And at the same time, the Church realises that if someone, driven by a sense of duty and the need to honour his oath, stays loyal to his vocation and dies while carrying out his military duty, then he is, without any doubt, doing a deed that is equal to sacrifice. He is sacrificing himself for others. And, therefore, we believe that this sacrifice cleanses away all of that person's sins."
Personally, I think it is troubling that Kirill would make a claim that sounds very much like a promise to Latin crusaders as he continues to bless warmongering rather than peacemaking. One wonders how low 'His Holiness' and the Russian Synod are willing to sink morally in their sycophancy to Vladimir Putin.  We see in them why nationalism is incompatible with Christianity and is condemned by the Gospel teaching that you cannot serve God and mammon. Instead of raising the morality of their flocks, Kirill and the Russian Synod seem to be kowtowing to the mammon of nationalism and the favors they receive from the state.
On the other hand, it is also worth noting that at least in the above quote Kirill does not say the soldiers will go to heaven for killing others.  He does recognize that the Russian war of aggression is 'fratricidal' and he says he is praying that the fighting might soon stop, but still falls short of condemning the killing of his own flock as well as those in the Ukrainian Orthodox Church. And he stays close to the Gospel by commending sacrificing oneself for the sake of others, which is not a blessing to kill anyone.  It is only a blessing to be willing to die for others: "Greater love has no man than this, that a man lay down his life for his friends" (John 15:13). Christ does bless laying down one's life – accepting martyrdom – for one's friends, but does not bless killing others. So maybe what Kirill is telling his flock: if you become soldiers in the Russian army, you may lay down your life for your country but then refrains from blessing them for killing anyone.   Maybe he is calling his flock to Christian martyrdom?  This would be in the Orthodox spirit of the passion-bearing Saints Boris and Gleb.
Maybe all I have written is to try to salvage something Christian in Russian Patriarch Kirill's words, for the same article quoted above also says: "Patriarch Kirill has previously claimed that young Russians were 'doing a heroic deed' by killing Ukrainians."  If he said that, it would be pretty hard to find any of the Gospel in his thinking.
[Although I offered a better interpretation of the Patriarch's words above, it is not hard to imagine more cynical interpretations of his words regarding dying in the war as a cleansing of one's sins. Maybe he is saying if you kill/murder others in this war, then dying yourself in the war will cleanse you of the sin of fratricidal murder. Or maybe his words are meant for Russian prison inmates in trying to recruit them into the military: your sins will be forgiven if you are killed on the battlefield so enlist now. Or even worse, maybe he is signaling to the Russian troops to be ruthless to the Ukrainians whether soldier or civilian and whatever atrocities you commit against them will be forgiven if you die in battle.]
Much to pray for as one watches the Russian Church slide downhill morally in its effort to engender the Russian state's favor. The Church is supposed to be the spotless Bride of Christ, but the Russian Patriarchate seems instead to be in bed with the Russian state.
… and many nations shall come, and say: "Come, let us go up to the mountain of the LORD, to the house of the God of Jacob; that he may teach us his ways and we may walk in his paths." For out of Zion shall go forth the law, and the word of the LORD from Jerusalem. He shall judge between many peoples, and shall decide for strong nations afar off; and they shall beat their swords into plowshares, and their spears into pruning hooks; nation shall not lift up sword against nation, neither shall they learn war any more; but they shall sit every man under his vine and under his fig tree, and none shall make them afraid; for the mouth of the LORD of hosts has spoken. (Micah 4:2-4)

Then Jesus said to him, "Put your sword back into its place; for all who take the sword will perish by the sword. (Matthew 26:52)