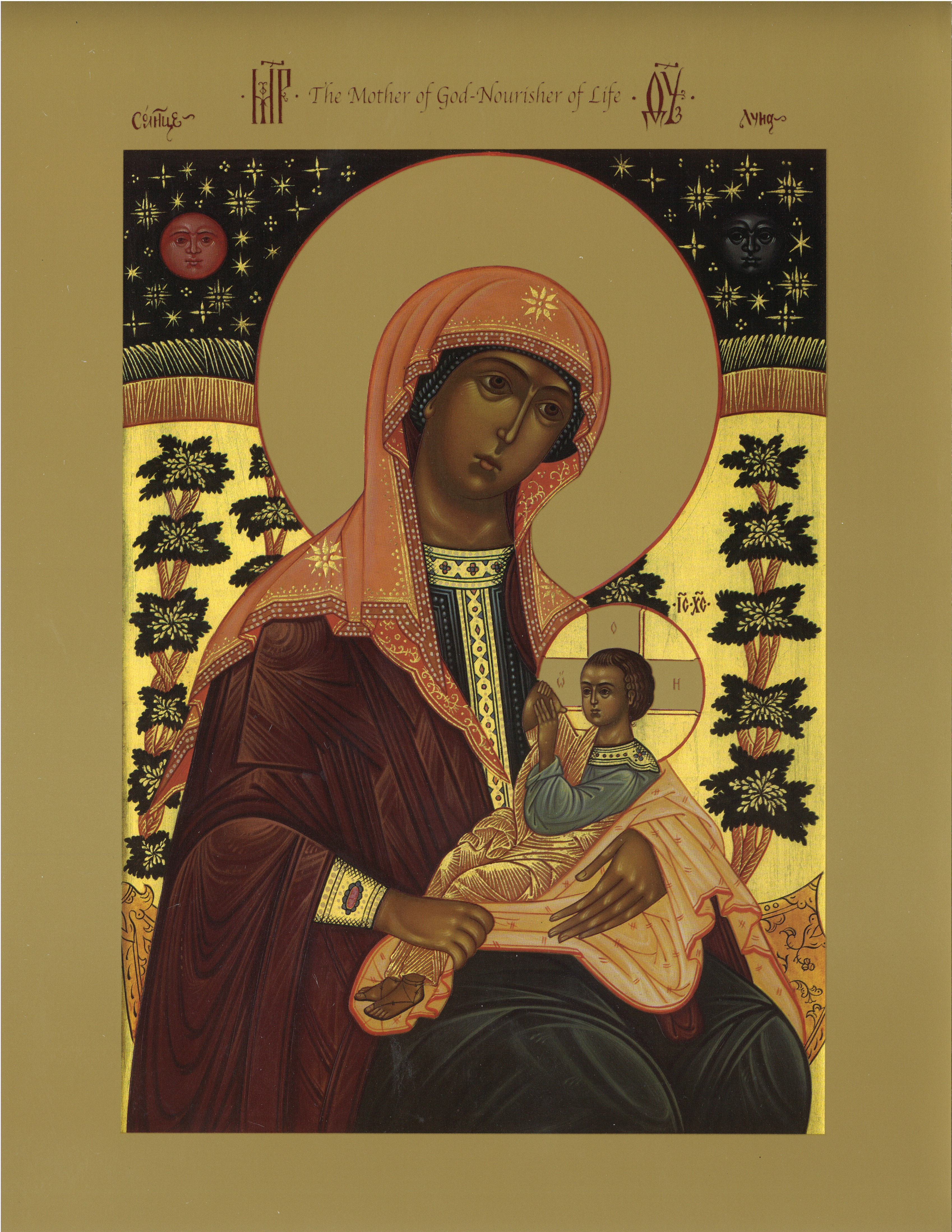 Today in the life of our church in America we are affirming our commitment to the Sanctity of Human Life.   We do this each year on the 3rd Sunday in January as we remember that in our country in 1973, the Supreme Court ruled that having an abortion was a guaranteed right for Americans – a ruling that also said that the child still in the womb had no human rights.  Our Orthodox Church has lamented and protested that decision, questioning whether anyone has a right to take the life of an unborn child.
For us as Orthodox Christians, being pro-life should not be limited to mean we vote for pro-life candidates, for I think that just reduces it to a political issue which is used by political parties for their own gains.  The issue for us is a moral issue and we should not let political parties use us for their purposes. If we are to be pro-life we have to support those ideas and policies which support life.  This means it is not sufficient to think about the issue only every November at the election.   Being pro-life does not mean just trying to pass laws that prohibit abortion.  Pro-life means that we lend our lives, our resources, our energy and homes to helping families have healthy children.  Pro-life means we support mothers who choose to bring their babies into being and not only vote for laws that prohibit abortion but also vote for policies that are pro-family and pro-health and pro-children.  We need to support education and health care policies that help even the poorest of families to have access to good schools and health care.  These are moral issues to which we must always tend because we are pro-life.  Give your support to families in need, not just to political candidates or parties.
Performing abortions is an ancient practice.  And while our world has made much progress in proclaiming human rights and defending those who cannot defend themselves, the modern world has not been willing to extend those same rights and protections to the unborn child.
Writing in the 3rd Century, a Christian bishop we know as Methodius proclaimed that every baby conceived is crafted and blessed by God. Every baby conceived comes into existence as the result of the will of God.  Methodius even defended the rights and life of illegitimate children.  He wrote:
"… we have been taught by the divinely inspired Scriptures that all babies, even those from unlawful unions, are entrusted at birth to the keeping of guardian angels.  Whereas if they came into existence contrary to the will and ordinance of that blessed nature of God, how could they be committed to angels to be brought up with great gentleness and indulgence?"
Methodius is defending the sanctity of human life, all life, all babies, even unwanted and illegitimate babies have life because God willed them into being and God appoints a guardian angel for each of them.   If God appoints guardian angels even for illegitimate babies, then we as God's people should also be willing to act as guardians for these same children.  We should be encouraging families to stay together and to work together to raise their children.   We should be helping them and supporting civil policies which give them support as well.
Bishop Methodius goes on to talk about those parents who decided to terminate the life of their children either by exposure or by abortion:
"And if they are to accuse their own parents, how could they summon them before the judgment seat of Christ with bold confidence and say: 'Lord, You did not begrudge us this common light; but it was those who exposed us to die, they despised Thy commandment…'"  (The Symposium: A Treatise on Chastity, pp 55-56)
Methodius' stark words are that all these children whose lives were ended abruptly will ask for justice from God.  The babies who died from exposure or abortion will on the Judgment Day remind God that He had brought them into being, but their parents chose to kill them.  The imagery is very close to what we see in Revelation 6:9-11 –
When he opened the fifth seal, I saw under the altar the souls of those who had been slain for the word of God and for the witness they had borne; they cried out with a loud voice, "O Sovereign Lord, holy and true, how long before you will judge and avenge our blood on those who dwell upon the earth?" Then they were each given a white robe and told to rest a little longer, until the number of their fellow servants and their brethren should be complete…
Methodius' image is a terrible one – for these children instead of praying for their parents, remind God what their parents did to them.
We ourselves might think of what St. Paul said in Colossians 3:4-11 –
When Christ who is our life appears, then you also will appear with Him in glory. Therefore put to death your members which are on the earth: fornication, uncleanness, passion, evil desire, and covetousness, which is idolatry. …
What we are to put to death is not the children whom we don't want, but rather our own sins.  Instead of aborting children we don't want we should be putting to death our passions and sinful nature.
St. Paul doesn't even suggest that we put vile and violent sinners to death either, just our own passions.
We are called to remember that God values life so much that God wants there to be as much of it as is possible.  In the beginning in Genesis 1:27-28 we hear these words:
So God created the human in his own image, in the image of God he created him; male and female he created them. And God blessed them, and God said to them, "Be fruitful and multiply, and fill the earth …
The conceiving of children fulfills God's plan.  But of course we believe that those children are also supposed to be conceived and raised within nurturing families.
Jesus Christ said
"I came that they may have life, and have it abundantly."   (John 10:10)
Life is a precious gift given to us by God so that we might have communion with God and share in God's own abundant life.
Psalm 139 tells us that  the unborn child in the mother's womb is formed and known by God.  Each baby is God's handiwork even if accidentally conceived or unwantedly conceived.
Throughout the Bible God affirms His love for the poor, the downtrodden, the weak and oppressed.  This is why we lend our voice to support life and to support the parents who are willing to sacrifice for the good of their children.
In Deuteronomy 30:19-20, our God says to us:
I call heaven and earth to witness against you this day, that I have set before you life and death, blessing and curse; therefore choose life, that you and your descendants may live, loving the LORD your God, obeying his voice, and cleaving to him; for that means life to you and length of days, that you may dwell in the land which the LORD swore to your fathers, to Abraham, to Isaac, and to Jacob, to give them."